Booking is now open for the
13th European Cantors Convention
Download the registration form here

The 13th ECA European Cantors Convention, will be a Special ECA Musical Gathering in Commemoration of the
75th Anniversary of the Liberation of Auschwitz
In the City of Hannover

Thursday 23 (13:00) – Monday 27 January 2020 (22:00)
in association with the
Jewish Community of Hannover and Association of Jewish Communities for Lower Saxony
Hosted at Villa Seligmann, Hannover – The House of Jewish Music
---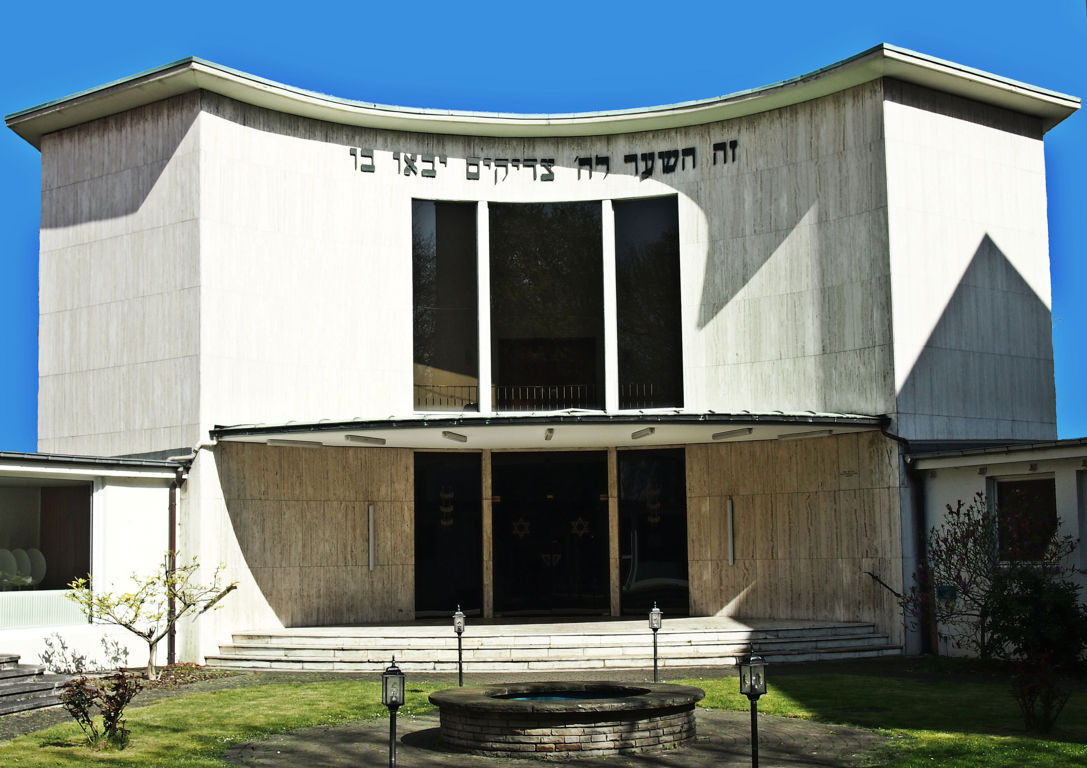 For our 'bar mitzvah' convention in 2020 we present a different format, in a city with Jewish heritage spanning nine centuries.
Jews have lived in Hannover since the 13th century. In 1930, as now, Hannover was home to one of the ten largest Jewish communities in Germany. Its first synagogue was constructed in 1703 in a backyard not visible to the general public.
In 1870, a grand new synagogue was established in close vicinity to the main churches of Hannover. Together with several others it was destroyed in a rage of violence and attack on Kristallnacht.

After the war, concentration camp survivors – including 66 native Hanoverians – returned to re-establish the Jewish community, including a Jewish school and community center. In 1963, a new synagogue (left) was built. The Hannover Jewish community now numbers more than 5,000 members – and a panoply of institutions and communal services.
During recent years, the community life has developed considerably, in particular in the areas of youth, culture, social and elderly work. The membership continues to grow. A unique Hannover institution is the European Center for Jewish Music that maintains a significant research centre and high school.
European Cantors Association has teamed up with the Hannover Jewish Communty to present a convention celebrating those nine centuries, commemorating the 75th Anniversay of the Liberation of Auschwitz, and exploring the future of Jewish liturgicl music
---
Sessions will highlight music before the Holocaust and focus on the Progress of Synagogue music in the last 75 years and where it might go in the future.
There will be presentations by many internationally recognised cantors and opportunities for delegates to present short sessions and to sing in the open mic and concerts.
Musical highlights will include concerts by the Hannover community choir and delegates, with Shabbat services in the Orthodox synagogue (interior pictured, right)
The convention will culminate on Monday night 27 January, with The Night Holocaust Concert – at the Hannover Congress Centre: an oratorio for narrator, choir, soloists and orchestra composed by esteemed cantor and composer Leib Glantz, orchestrated and arranged by Cantor Joseph Ness.
The Night Holocaust Concert is based on the Holocaust testimony book 'Night' by Elie Wiesel.
It will feature the Kaliningrad Symphony Orchestra and the Vilnius State Choir as well as Moscow and Hannover Jewish choirs.
After the convention, there will be a optional visit to Bergen-Belsen on Tuesday morning 28th January
We hope you will join us for this very special occasion commmorating the 75th anniversary of the liberation of Auschwitz.

---
Convention fee for all delegates is £195 (£120 students) to include all sessions, concerts and meals. Accommodation not included.
Recommended hotels are listed on the registration form.
All enquiries to convention@cantors.eu
Download the registration form here

THE PROGRAMME - THE VENUE

---
Supported by the Jewish Music Institute and the
Teitelbaum/Glansberg Family in honour of Estelle Teitelbaum Slomovitz
The Teitelbaum/Glansberg Family wishes to honour Estelle Teitelbaum Slomovitz, 90, a lifelong supporter of Yiddish culture and Cantorial music.
Her motto was that "we need to take responsibility to properly support and maintain this vital part of Jewish life and worship. This represents hundreds of years of thriving Jewish life in Europe and we need to preserve it for generations to come"
---
Last Updated 14th July 2019